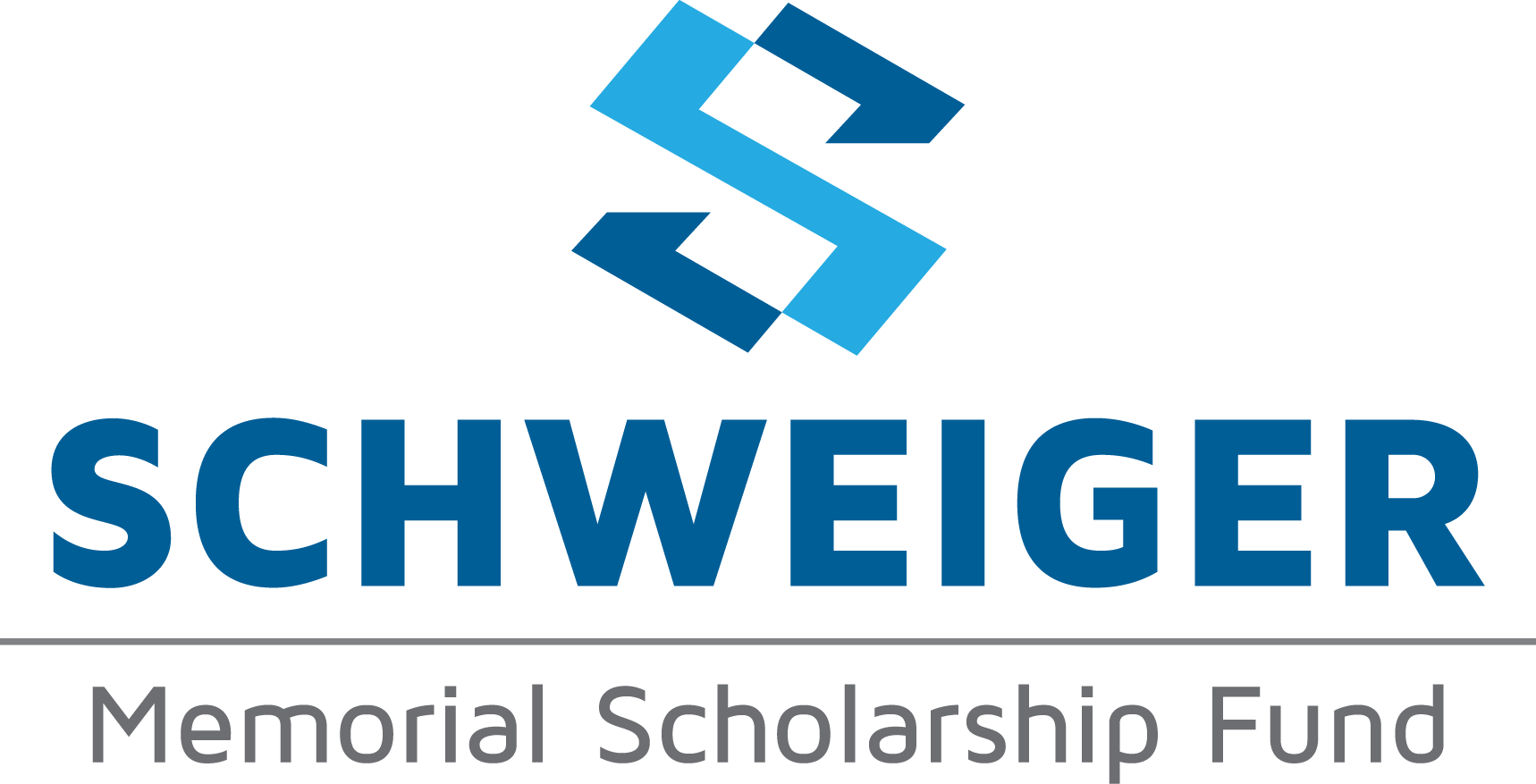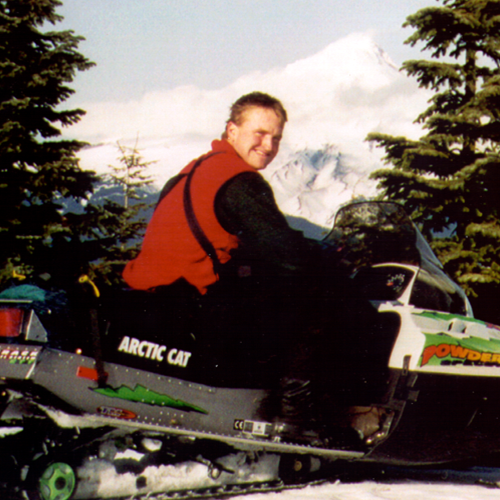 Forrest Schweiger, son of Advanced American Diving Service co-founder Konrad Schweiger, lost his life in a construction accident in 1999 at the age of 26. To honor and commemorate Forrest, Advanced American Construction formed the Forrest L. Schweiger Memorial Scholarship Fund. Then on April 11, 2002, Konrad Schweiger passed away unexpectedly. To honor both Forrest and Konrad, the fund's name was changed to the Schweiger Memorial Scholarship Fund.

The Fund provides annual scholarships to applicants looking to pursue careers in construction and construction-related fields. A selection committee reviews applicants and awards recipients at the annual Schweiger Memorial Scholarship Awards Banquet each spring. Many of the Schweiger Scholarship recipients also participate in Advanced American Construction's robust internship program, which provides practical construction experience for students in related fields.

Advanced American Construction hosts both the annual awards banquet and silent auction and the annual Golf Tournament each summer to benefit the Schweiger Memorial Scholarship Fund.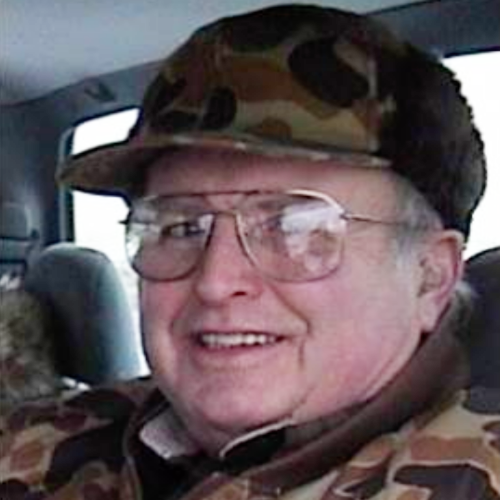 2015 Annual Schweiger Memorial Scholarship Awards Banquet - Friday April 24, 2015
2015 Annual Schweiger Memorial Scholarship Golf Tournament - Monday August 10, 2015.
Thanks to the generous financial contributions received from AAC's customers, vendors, employees and friends,
194 scholarships totaling $512,000 have been awarded since the Fund was founded in 1999.

Sponsors for Schweiger Memorial Scholarships:
Oregon Iron Works ($5,000 scholarship)
Hamilton Construction Company ($5,000 scholarship)
Tarlow Naito & Summers LLP ($5,000 scholarship)
Ness & Campbell Crane ($5,000 scholarship)
Ashback Family ($2,000 Veteran scholarship)
---
Application
View Recipients

2013 SCHOLARSHIP VIDEO
---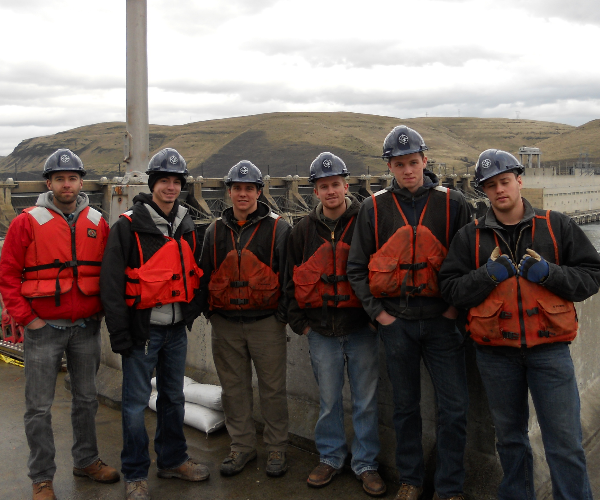 INTERNSHIPS AT ADVANCED AMERICAN CONSTRUCTION
Advanced American Construction offers internships for qualified students who are interested in building experience in the construction industry. Internships give students hands on experience with unique and challenging projects and first hand exposure to project operations. AAC offers internships for students in Civil Engineering, Construction Management, Construction Engineering Management and other related fields. If you are interested in an internship opportunity, please email HR@CallAAC.com.

AAC also works with scholarship sponsor companies to place additional intern opportunities. In the past, scholarship winners have worked with Oregon Iron Works and Hamilton Construction in addition to the internships offered through AAC.
---
SCHOLARSHIP RECIPIENTS SHARE THEIR GRATITUDE: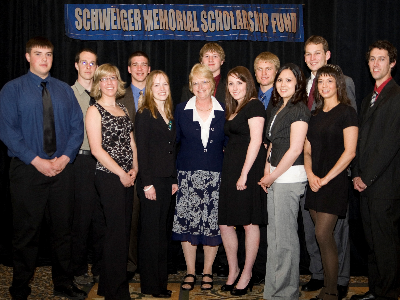 "By awarding me this scholarship you have lightened my financial burden. Your generosity has blessed and inspired me. I hope one day I will be able to help other students achieve their goals just as you have helped me." Evan Altorfer 2014-2015


"The message of the Schweiger Memorial Scholarship helps keep me motivated to do my best in school and reminds me that perseverance and keeping a positive attitude is what I need to focus on to achieve my career goals. Forrest and his father, Konrad Schweiger is on of the many reasons why I want to be involved in a construction-related field of work. To be able to work with amazing people like them while helping my community is my dream career and hopefully I will be in a position to someday help others who are pursuing the same dream." - Tasha Petermann, 2012 -2015

"Recieving the Schweiger Memorial Scholarship and the community of generous donors that come along with it, is invaluable to my education and future career in the construction industry." - Jason Powell, 2011-2013
"I just wanted to thank you for everything. I had such a great time at the awards dinner.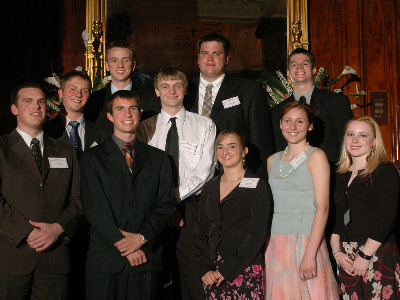 I am truly honored to be a part of your company's tradition, and I feel so fortunate and blessed to be the top award winner this year." - Megan O'Connor, 2009 and 2010


"It was really neat for my grandparents to see what a family the construction industry is. I love that this is what the Schweiger Scholarship represents, a family of people who advocate for the education of others. It is truly an honor to be part of it all." - Eryn Kelly, 2008
"The awards dinner adds personality and accountability to the scholarship…learning about Konrad and Forrest Schweiger, adds emotion and motivation…and propels me to strive for excellence." - Joseph Henry, 2007
"
Overall, this award has been an immeasurable blessing to my life both for academic reasons as well as for my future career choices." - Colby LeClaire, 2007

"I believe it is my responsibility to achieve at the highest level I can in order to proudly represent the Schweiger family." - Jared Hargens, 2006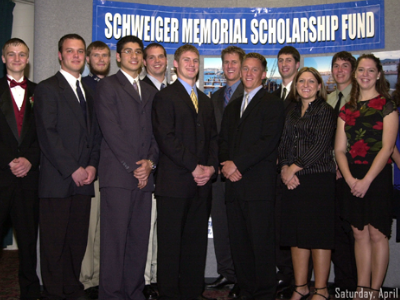 "There is an unsurpassed level of reassurance to know that people in the industry are behind you and support you in your construction education." - Jake Sannan, 2006

"With the financial assistance of this scholarship, I will be able to focus more of my energy towards enhancing my education rather than worrying about means of paying for it." - Monica Blanchard, 2006

"With the assistance of the Schweiger Memorial Scholarship, I know I will have the ability to go above and beyond the expectations of involving myself and others in projects that will not only better all of us as engineers, but also the community, the construction industry, and society. - Adrienne Nikolic, 2005
"With this scholarship, I will be that much closer to obtaining my degree in business and furthering my engineering work and education today, for the future tomorrow." - Sara Jackson, 2005

"In receiving this scholarship from the great people that have supported the Schweiger Scholarship, it has encouraged me from the beginning to continue my education to a higher level when I was in doubt." - Andrey Chernishov, 2004
"You have done a great job in supporting the dreams of many young students, and with that you have truly strengthened the future of construction." - Kevin Linderman, 2004

"As a recipient of this scholarship, I would benefit in many ways. I would have the freedom of a financial burden. I would have more confidence in myself knowing that others believe in me. But most of all, I would be greatly honored to receive a scholarship bearing the Schweiger name." - Sandra Rogers, 2004

"It is great to be recognized by a scholarship organization, but as the Master Card people say, being recognized by a scholarship organization already established in the industry I aspired to become a part of is priceless." - Cole Olsen, 2003

"Receiving a scholarship shows that someone believes in you and is willing to invest in your future." - Seth Williamson, 2003

"This scholarship is a challenge to be better, work harder, and give all life's aspirations one hundred and ten percent." - Jake Duyck, 2003