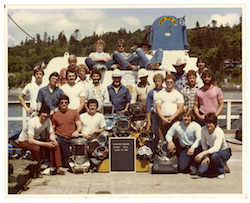 1983
Advanced American Diving Service, Inc. (AADS) was founded by Konrad Schweiger and Kent Cochran as a commercial diving business in Oregon City, Oregon.
1999
AADS purchased the M. Cutter Company (MCC) located in Vancouver, Washington. MCC provided quality emergency machinery and equipment repairs for both industrial and marine clients including paper and steel mills and grain elevators in the Northwest since 1986.
Kent Cochran, founder of AADS retires from the company.
Forrest Schweiger, son of AADS founder Konrad Schweiger died in a construction accident at age 26.
The Forrest L. Schweiger memorial scholarship was founded by AADS in his memory.
2002
AADS founder Konrad Schweiger passed away unexpectedly on April 11, 2002 at age 56. Konrad Schweiger had worked as a sheet metal worker, welder and diver since 1966. In 1980, Konrad and Bill Shires began All Coast Commercial Divers in Coos Bay, where Konrad was decorated with the Carnegie Medal of Honor and the Marine Medal of Honor. In 1983 he returned to Portland and founded AADS with Kent Cochran. In 2002, the Forrest L. Schweiger Scholarship was renamed to the Schweiger Memorial Scholarship fund to honor both Forrest and Konrad Schweiger.
​2003
AADS celebrated its 20th anniversary and was recognized by its public and private sector clients for excellent performance in commercial diving and marine construction. Parent company Advanced American Construction Inc. was created as an umbrella for AADS and MCC.
2005
AADS and MCC formally merged and adopted the name Advanced American Construction, Inc. (AAC) to more accurately reflect the company's broad range of marine construction, diving and industrial services.
2006
On May 8, 2006, AAC opened its new headquarters in Portland, Oregon consolidating its operations on the west bank of the Willamette River under the historic St. John's Bridge. The new seven acre site and 42,000 square foot facility provide ideal location, space and facility equipment to optimally serve clients' needs.
2008

AAC celebrates its 25th Anniversary, hosts event to showcase the new facility
2011
AAC receives the AGC/Aon Build America Grand Award for the Lake Oswego Interceptor Sewer project, recognizing the nation's most significant construction project.
2013
AAC celebrates its 30th Anniversary with an open house event on September 6, 2013 for employees, customers, vendors and friends
2014
AAC purchases the Millennium 4100 Ringer Series 3 derrick barge, the most significant single investment in equipment by AAC to date. With a 300 ton capacity, up to 280 vertical feet of reach and a 6 point moorage system, the Millennium is the largest capacity crane on the Columbia, Willamette and Snake River System. AAC hosted a VIP event for business contacts, customers and community representatives to officially welcome the Millennium to the fleet on September 11, 2014.